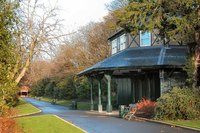 Cafés, which are small, local restaurants that often have outside seating areas, need a business plan to succeed. Café business plans are an outline for the present and future of the café. New, start-up cafés require complete, detailed plans. For a café that has been in business for several years with plans to re-vamp or change the focus, modifications to an existing business plan may be appropriate. Seek input from managers and staff as you develop the plan.
Analyze the competition within your neighborhood or town. Consider other cafés, coffeehouses, restaurants and diners according to what they serve, what they charge and who patronizes them. Decide what your niche will be. Perhaps your menu will differentiate you from the other cafés and restaurants. Maybe your prices will be lower. Alternatively, perhaps your service or location will standout from your competition.
Write your mission statement. In a few short sentences, summarize your café, its patrons, the ambiance and its market niche, and how it will be different from the competition. Consider keeping it to a few sentences or one paragraph at the most.
Create a financial plan. Include initial capital expenditures required to open the café, along with on-going operational figures for income and expenses. Differentiate between fixed costs, expenses that remain the same each month such as rent and insurance, and variable costs, or expenses that change according to the season and number of meals the café serves, such as hourly wages and electricity.
Develop a marketing plan that determines how and where to spend your money to attract patrons to your café. Your marketing plan might include website expenses, brochures to distribute at the local visitor center, ads in the local newspaper, sponsorship of a local baseball team or a billboard on the nearby highway. Marketing expenses need to be higher when your business first opens. After that, good word-of-mouth can help generate publicity.
Develop a strategic plan that combines all aspects of your business preparation. Meld together your mission statement, your financial details, and your marketing plan, and add measurable goals for the next two to five years. Be specific by using numbers, percentages, dates and exact amounts.