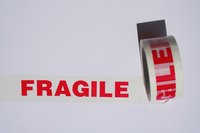 Greyhound provides transportation for people traveling across the United States. They also provide for the transport of packages. As displayed on Ship Greyhound, same-day shipping prices to several major cities are less expensive with Greyhound than with other shipping options.
Things You'll Need
shipping boxes
tape
marker
labels
military or student ID
Call the Greyhound toll-free number listed on their website to ask about hours of operation, locations and packaging requirements.
Pack your item in containers appropriate for the item. According to Ship Greyhound, the container should be durable and strong enough to withstand handling on buses. Items that are perishable or fragile should be labeled as such in large letters. Leave the package open if possible, as Greyhound reserves the right to open, inspect and reject any packages that are not adequately packed. They will supply tape for sealing at their counter. They may also refuse to ship any items that are damaged or inappropriate for shipping.
Plan to pay the shipping charges at time of shipment. Greyhound does not allow you to send packages freight-collect to residential addresses.
Contact the intended recipient of your package to assure they will be available to pick up the item when it arrives. Greyhound does not make residential deliveries.
Deliver your package to the Greyhound Package Xpress storefront if you are in a major metropolitan city. Otherwise, take your package to the Greyhound ticket counter. Some counters have a "will call" section, which saves time.
Inquire about your choice of shipping options. Some options will get the package to the destination faster, but will also cost more. All options may not be available in all areas. Ask about any special rates for students or military if you are a member of either group.
Ask about opening a commercial account if you are a business or operate a home-based business. Greyhound has special rates available for commercial accounts as well as commercial charge accounts.
Ask if Greyhound automatically provides insurance on your package in the event of loss or damage. You may be able to purchase additional insurance if your item is valued greater than the insurance amount included.
Find out about tracking options, how long the item will take to arrive, if the recipient will be notified upon arrival and what will happen if the recipient cannot be contacted.