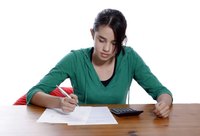 If you're going to owe taxes at the end of the fiscal year, it's a good idea to estimate how much money you're going to have to pay the Internal Revenue Service long before the balance is due. If you save money during the year to meet your tax obligation in April, then you'll be able to pay the amount you owe without having trouble making ends meet at home. There are many websites set up to help you calculate how much money you'll owe in taxes and you can get your estimated taxes owed by sharing just a bit of your financial information anonymously with these calculators.
Determine your filing status, exemptions, total income, and any adjustments to that income, like moving expenses, educator expenses, or self-employment taxes. You can get this information from your W2s, from the payroll department at your place of employment or by reading the IRS website, which offers details on whether you qualify for adjustments or exemptions.
Enter this information into a calculator set up online to estimate your taxes owed. Sites that offer this include Bank Rate, AARP and 1040.
Check the data you've put into the calculator to be sure that it's accurate.
Hit the "Calculate" button to receive your estimated taxes owed.