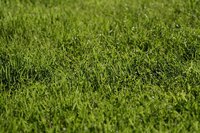 While mowing the lawn or hauling brush with your lawn tractor, one of the tires may spring a leak. Maybe you hit a nail or a thorn punctured the tire. Whatever the cause, the tire has to be fixed; otherwise, the tractor becomes an expensive paperweight. There is only one cheap and simple way to try to fix the tire. If that method does not work, though, the tire will have to be replaced.
Things You'll Need
Tractor lift or car jack
Can of tire inflator and sealant
5/8-inch wrench
Flat-head screwdriver
New tire
Lift the tractor with a car jack or a tractor lift. With a car jack, lift the tractor under the engine frame as that is the strongest section of the tractor. With a tractor lift, position the lift's levers under the tractor's front and pull the lift downward. This will cause the tractor tires to lift off the ground.
Unscrew the valve stem cap on the tire's wheel with your hand.
Attach the can of tire inflator and sealant to the air plug and press the button on the can to send the material into the tire. For tractor tires, use only about half the can. Allow the tire to sit for a few minutes to see if the tire remains flat.
Pop the rubber casing off the wheel's hubcap if the tire remains flat.
Loosen the hubcap's wheel by unscrewing the hubcap with a 5/8-inch wrench. Slide the bolt off and the tire complete with the wheel.
Separate the wheel and tire. Place a flat-head screwdriver between the tire and wheel. Pry the tire off the wheel.
Secure a new tire onto the wheel. Place it back onto the tractor and tighten the bolt into place. Replace the rubber hubcap casing over the bolt.
Lower the jack or disengage the lift by pulling the lift upward.