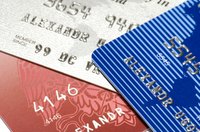 No matter how your credit card is branded, the card itself was issued by a bank. Finding out which bank issued your credit card and holds your account is important if you need to dispute a transaction, work out a payment agreement or complain about the service you have received. Fortunately, a little bit of detective work should reveal this important information about all the credit cards in your wallet.
Turn your credit card over and look at the back of the card. The name of the issuing bank is often written in small letters on the bottom of the card.
Find a copy of your most recent credit card statement. Look in the fine print of the statement for the address to send inquiries and disputes. This address will often include the name of the bank that issued the card.
Call the toll-free number on the back of the credit card and listen carefully to the announcement. The stock announcement often includes information on the name of the issuing bank.
Speak to a representative and ask which bank issued your credit card. Be sure to get the proper mailing address if you need to cancel your card, work out lower monthly payments or make a complaint.