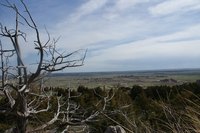 Investing in land is generally considered a sound move. There is only so much land in the world, and owning a finite resource is a good way to get your hands into the land market. A variety of ways exist to invest in land, depending on what you're comfortable with and what your budget will allow.
Research the market to find out what's happening. For instance, if you want to get in on the ethanol boom you'll want to be looking at land in the Corn Belt. If, on the other hand, you're interested in securing land that will be of interest to housing developers, then see where those businesses are looking to build. The more you know before you put money down, the better your return on investment will be.
Buy land. This is the easiest and simplest way to invest in land--just flat-out owning it. If you buy well (say, in a location of interest to a major retailer or developer) then you can sell that land for a healthy profit, especially if you've sought to buy as cheaply as possible.
Invest in land stocks. This is a much cheaper approach, and it doesn't require you to guess what's going to happen with the specific land that you've purchased. Land stocks include timber, mining, petroleum and agriculture. You can buy as much or as little stock as you feel comfortable with and can afford.