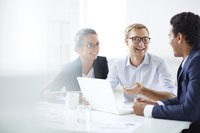 The key to a successful law practice is having clients. To get clients, they first must know that your law practice exists. Unlike most other businesses, however, there are specific restrictions on how an attorney can obtain new clients. Generally, advertising, bar association lawyer referral services, word-of-mouth advertising and performing community service are ways that lawyers obtain clients.
Consult your jurisdiction's ethics rules or rules of professional conduct before taking any action on advertising or obtaining new clients. Each jurisdiction may have its own rules regarding the types of advertising a lawyer can create, the type of information that may be provided, the time period for which an attorney must keep a copy of advertisements in his files, and how to seek and receive referrals.
Place an advertisement. Many advertisement opportunities exist, so make sure that the type you choose will be tailored to the clients you are hoping to attract. Newspapers, church bulletins, Internet advertisements, a website with your practice areas and contact information, specialized journals, the radio, television, billboards and the sides of buses are all potential places to advertise. Think about your client base and determine how you will be able to reach it. Then, either create your own advertisement or consult with a professional. Consider advertising agencies and graphic designers if you need help designing an advertisement or writing a script for the radio or television. Review your advertisement to make sure it complies with your jurisdiction's ethical rules.
Join your local bar association's lawyer referral service. Most bar associations have lawyer referral services that allow people to call and request an attorney. The lawyer referral service then gives out the name and contact information of an attorney. The American Bar Association also has a lawyer referral directory, of which you may wish to become a member.
Establish relationships with other attorneys in your jurisdiction. In some cases, lawyers who practice the same areas of law that you do may have more clients than they can handle, or a lawyer may practice a different area of law and refer an existing client to you. Be sure, again, to consult your jurisdiction's rules of professional conduct. The way by which an attorney can receive referrals from other attorneys, what must be disclosed to the client and whether a lawyer can share a legal fee through a referral with another lawyer will be covered in your jurisdiction's rules.
Maintain good relationships with existing clients. If you do a good job for a client, he may tell others about you and the good work that you do.
Perform community service. Making yourself active in your community will expose you to potential clients. If the members of the community know you, they may be more willing to seek your legal advice. Any type of community service is helpful, and it need not be free legal services or even legally oriented.