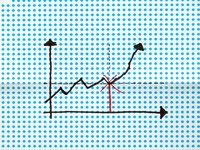 An option is a contract that gives the buyer the right to purchase the underlying asset (call) or to sell the underlying asset (put) within a specified period of time. The asset underlying the contract could be a commodity, such as gold, or a financial asset, such as currency. Investors often buy puts to lock in a selling price for a stock. This protects investors from declines in the stock market because the investor can sell the stock at the higher price with the put.
Find an investment professional with a certification to trade derivatives. Options are not stock; thus investment professionals must have a special license to trade options and other derivative products. Options are considered derivatives because the value of the option is derived from the value of the security that forms part of the contract.
Place an order with your investment professional to buy a put option on a particular asset, for example, a stock.
Pay the option premium (the price the option sells for) to your investment professional. Your investment professional will forward the option premium to the writer of the put.
Examine the stock market to determine whether the stock has risen or fallen in value.
Contact your investment professional to sell the put when the stock falls in value. At this point, the put will rise in value because the investor who owns the put can sell the stock at a higher price than what he would be able to get on the market.