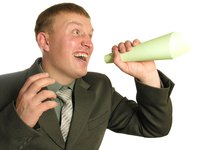 Handle conflict in meetings by gaining an understanding of the other person's position and building on that. Realize that some conflicts are not preventable at work, such as when change or new ideas are occurring. Handle conflict as soon as possible so it does not get worse. Try to observe the situation from both sides of the conflict and identify the potential consequences. Conflict can be healthy for an organization by opening new areas of ideas and changes but if left unresolved it can tear a business apart.
Realize that not all conflicts can be prevented and set up methods for resolving conflict. Develop methods for settling conflict when it occurs, such as identifying areas of agreement and creating a compromise. Outline the conflict procedures in a manual and give all employees a copy of the manual. Design each step in the conflict process and a method for solving it. Look at both employees' positions and highlight areas of truth in the argument and build upon that. Ask other employee's suggestions for resolving the conflict and document the responses.
Handle conflicts in meetings in a prompt matter to prevent violence or insubordination. Invite the people involved in the conflict to talk about it outside of the meeting. Observe the situation from a neutral standpoint and have employees state only observable facts of the argument and not assumptions, such as that one person does not respect another's ideas.
Outline the consequences the conflict could have on the business, such as negative attitudes within the organization. Define objectives that are reachable by both sides and have a common goal to aim for. Ask for specific requests that can be enforced right away. Introduce new rules in staff meetings that involve listening to both sides.
Involve a mediator to help resolve conflicts in meetings. Select a mediator who is trained in mediation principles and who is experienced and trusted. Visit the Mediate website to find a professional mediator and helpful resources for resolving conflict. Click on the "Find Mediator" icon to search for mediators in your state.