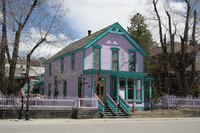 Depreciation, a form of tax deduction, gives taxpayers an opportunity to recover the cost of their investment in a way that generates income. If you have the capital to purchase a rental property, it's a great way to earn extra income. There are a few ways to decrease the taxable income you receive from the rental properties, and one of those is depreciation. The IRS will allow you to depreciate the value of a rental property over a period of 27.5 years.
Determine your cost or other tax basis for the rental property.
Find the building value. Take the original purchase price and subtract it from the land value. You must have the value of just the house in order to depreciate its value.
Calculate the allowable depreciate amount per year by dividing the value of the building by 27.5 years.