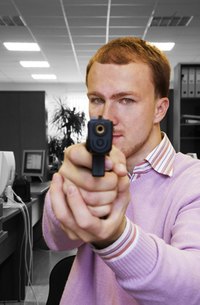 One of the hardest things a manager must do is reprimand an employee. While sparing employees emotional pain, the manager must tell them when they are not performing up to standards. If he is too soft, he runs the risk of the employee not getting the message. If he is too hard, he might end up dealing with an unmotivated emotional wreck. Reprimanding an employee has to be done with a certain amount of skill and tact.
Things You'll Need
Private area
List of actionable complaints
List of solutions
Create a list of issues. Write them down so you know what you want to cover in the meeting. Write down a list of acceptable solutions.
Call the employee into a private area away out of sight and hearing of co-workers. What you have to say is just for the employee and no one else needs to know.
Go right into the issues. Don't sugar coat it by telling the person how good they are or have been doing. This meeting should be about the issues.
Remain calm while explaining the issues. Try to come across even and without malice. This is a business discussion and should be treated as such.
Make it all about you. Use "I" statements to describe the issues (as opposed to "you" statements, which just make employees feel attacked). Let the employee know how the issues are affecting you and the company.
Ask for input about the issues. The employee may have a different perception of the situation. Listen to the employee's response and explain any errors in the employee's perception.
Ask the employee for a solution. If the employee can not propose a solution, or if theemployee's suggestion is not acceptable, guide the employee to a solution. Document the agreed upon solution.
Thank the employee for meeting with you. Voice your expectation that the issues will be resolved according to the agreed upon solution.