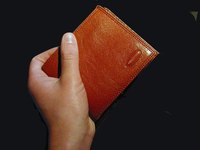 If you are looking to buy a Coach wallet online, at a factory store or from a street vendor, you might want to determine whether the wallet is a faux Coach replica or an authentic product. When an online store offers checkbook wallets at a price listed 60 to 70 percent off retail prices, this deal is often for a Coach impostor. From examining the seams to looking for reconstituted or fake leather, with a little practice you can clearly identify an authentic Coach checkbook wallet.
Check the outer covering of the checkbook wallet for fake leather. If the wallet is real leather, the material is smooth. According to the experts at Bag Vanity, counterfeit Coach products feature fake or reconstituted leather. In fact, fake leather checkbook wallets will often feel rough to the touch or feel like plastic.
Locate the Coach bar code. When perusing authentic Coach products, check for the black bar code on the back of the price tag. Look for a sequence of letters and numbers that match the style number of the bag on the front on the tag. Locate the 4 alphanumeric letters and numbers that follow the Coach style number. A forward slash will separate the numbers and letters: for example, "MC/S4."
Examine the Coach checkbook wallet's hardware and zippers. The New York Times Magazine reports that the hardware of a Coach product should be weighty and made of real brass. The hardware should not be hollow and display the Coach logo on the clasp or other type of metal fasteners.
Verify the prices of an online Coach wallet purchase. Fake Coach vendors price the replica wallets at prices below the retail value of an authentic Coach product. Peruse the Coach website for pricing information and a list of authorized resellers. In 2010, Coach wallets retail from $198-$248.
Identify authentic Coach factory wallets. When purchasing a Coach wallet from an authorized outlet, the price tag will have the words "COACH" in dark brown letters. In a smaller font, the words "FACTORY" will be underneath the uppercase Coach logo.
Check the fabric and inner lining for the letter C. The Coach logo contains two "C's" The double C's should be straight and not crooked. The C's on authentic Coach products are facing each other.