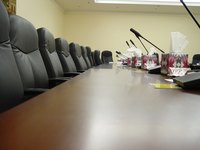 One of the great challenges of the marketing professional is how to write the marketing plan for presentation. After working hard to analyze the industry, the business, and prevailing economic trends, the marketer must then develop sound strategies and tactics that together represent the proposed marketing program. Most of this prior work might be written in draft on a series of yellow pads, or in a word-processing document.
Create an outline to identify the key sections of your marketing presentation, including important sub-topics that will be covered to support your program. In general, a marketing presentation should have three main sections: 1) industry background and product's prior sales performance, 2) marketing objectives, strategies and tactics and, 3) budget and timing.
Approach the writing of the industry background and product performance review with an objective tone of voice. Your goal here is to state the facts about category sales, individual brands sales within the category and your product's status in the category as it regards sales. You will want to include projections of category growth from reputation industry sources and cite any major trends in new products, consumer usage, competitive activities, or other important factors that will support your conclusions as expressed in strategies and tactics.
Write the objectives, strategies and tactics section. Communicate a personal recommended course of action for capitalizing on market conditions or responding to a particular threat to sales success. Your goal here is to communicate your action plan with all the enthusiasm you can muster since it is this part of the marketing presentation which you hope will be funded by the company. When composing this section, use the information presented earlier in the background section as support for your proposed plans.
Express your objectives in quantifiable terms if possible, such as dollar and unit sales, number of new contacts, whatever measurement is appropriate for your business. Don't spend an inordinate amount of time on the objectives. The strategies and tactics for achieving the objectives is the main thesis of your marketing document. You might want to embellish the detail given your planned tactics, since this may excite the approving person or committee into funding your program.
State your proposed budget as a table that itemizes the cost of each marketing tactic proposed such as advertising, new packaging, new product launches or other tactical element included in your presentation.
Put the draft aside for a day or so then reread and edit for flow, grammar, spelling, fact checking and argument flow. Depending on whether the final document will be presented only as a written document or end up being presented orally, such as in a standup presentation, you may want to revise the final document to ensure the marketer is doing most of the talking and the written words on each slide are there merely to support the oral presentation.