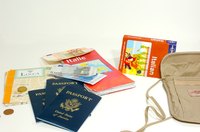 With airlines imposing restrictions on the weight and number of bags allowed by passengers, travelers must be smart when preparing for a 10-day trip to Europe. Consider the season in which you travel, the type of trip you're taking (whether you will tour one location or several; whether you will be backpacking or museum-hopping) and the accommodation where you'll stay (hostel, B&B, hotel or rented apartment). With thoughtful planning and organization, not only will your bags not be overstuffed but you should even have room for plenty of souvenirs.
Things You'll Need
1 rolling suitcase or convertible suitcase/backpack
1 fold-up extra bag to use on day trips
3 pairs of pants (one dressy)
1 skirt (women)
1 sport coat (men)
3 pairs of shoes (one dressy)
5 tops, varying sleeve lengths
1 sweater or lightweight fleece
1 seasonally appropriate jacket, preferably rainproof
1 scarf (or tie for men)
5 sets of underwear and socks or hose
1 pair of pajamas or nightshirt
Small folding umbrella
Toiletries
Camera
Extra memory cards
Batteries
Electronic adapters
Trip itinerary, passport and copies of important documents and contact numbers
When choosing your luggage, consider how you'll spend your 10 days in Europe. If visiting one city, such as Paris or Prague, and staying in a hotel, a rolling suitcase works well. However, if you will be traveling to different locations by train or bus, a convertible suitcase/backpack may be more convenient. Many travelers select plain black bags, which can make identification difficult in crowded airports and stations. If you use black luggage, add a distinctive name tag or mark to the bag. Packing a secondary fold-up bag comes in handy for day trips or if you need extra space when traveling home.
Resist the urge to over-pack and choose pieces that serve double duty (e.g., shorts as a swimsuit for men or a long T-shirt as sleepwear for women). Neutral-colored clothes—gray, black, navy, white and tan—are easy to mix and match, as well as to accessorize. Lightweight fabrics, such as silk or cotton, are good choices; they dry quickly and luggage will weigh less. Comfortable shoes are a must and one dressy outfit is recommended for evenings in finer restaurants and nightclubs. For summer trips to the Mediterranean, don't forget to pack a swimsuit.
You need to bring adapters for electrical devices used in Europe. In addition, different adapters are required for the United Kingdom and Ireland versus mainland Europe; therefore, if traveling to Dublin and Amsterdam on your 10-day trip, a converter that can accommodate both plug types is needed. If bringing a laptop, do not pack the computer in your checked luggage; also include a lock if you plan to leave it unattended in a hotel room. For digital cameras, extra memory cards and batteries are useful.
Pack travel-sized shampoos and soaps; if staying in a better hotel, you most likely can omit these as they're often provided. A basic first aid kit with bandages and antibiotic cream is useful, as is a sewing kit. Also, a supply of over-the-counter medications, such as antacids, cold medicine and ibuprofen, is recommended. For prescription drugs, pack enough for 12 days (in case of unexpected travel delays), and bring along the doctor's prescription in case officials require you to provide it. Don't forget an extra pair of glasses or contacts.
Have a copy of your trip itinerary and any hotel or train confirmation documents. Also pack a copy (scanned or photocopied) of your passport and plane tickets, as well as a list of important telephone numbers (e.g., credit cards, emergency contacts, insurance and local U.S. consulates).