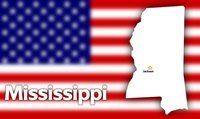 Companies or sole proprietors doing business in Mississippi must remit Mississippi sales taxes on products sold in the state. Businesses that consume products obtained from out of state must also pay Mississippi use tax. The Mississippi Tax Commission requires businesses to fill out a tax registration form. Businesses that register use the Mississippi tax ID number issued by the Tax Commission when submitting tax returns for sales and use tax.
Things You'll Need
Mississippi Registration Application
Access the Mississippi Registration Application form and instructions. Look up the district service office and contact details for your company's county. Out-of-state businesses also have a specific Mississippi district office for registration. According to the Mississippi Tax Commission, you should contact the district office before registration to determine the tax requirements for your particular business.
Print out a copy of the application for each physical location of your business. Each location receives its own permit and tax number.
Fill out the registration form. This Mississippi Tax Commission form allows businesses to register for a tax permit and tax ID number for sales and use tax. Use the same form to register for Mississippi withholding tax, corporate income tax, beer tax and tobacco tax.
Sign and date the form. Sole proprietors must sign and date the form as the business owner. A corporate officer must sign the form for corporate registrants. The managing partner should sign for limited partnerships. All general partners must sign for a general partnership. However, one partner can sign if including the partnership agreement when submitting the tax registration form.
Send the Mississippi Registration Application to your district service office. Include a copy of a picture ID when registering as a sole proprietor. All partners in a general or limited partnership must also include a copy of a picture ID. The application instructions provide the physical address for each district office. You do not have to pay a fee to get a Mississippi tax ID number. Wait about two to three weeks to get your tax permit and ID number.