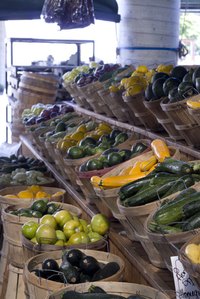 Nearly 4,800 farmers' markets market directly to the public, reports the U.S. Department of Agriculture. The explosion in the popularity of farmers' markets during the early 2000s is fueled by public demand for fresh, flavorful, quality produce and the comparative ease of creating a farmers' market. Some farmers' markets offer arts, crafts and food vendors, too. In creating a farmers' market, consider offering unusual produce and products as part of the appeal.
Things You'll Need
Vendor contracts
Location
Marketing materials
Website
Signage
Insurance
Instructions
Visit your local chamber of commerce. The chamber will advise you on suitable locations for the farmers' market, walk you through the local and state regulations, and assist you in gaining buy-in from the community. The chamber will also give you an idea of what you need to help the venture succeed.
Find vendors in your area. Ask your state Department of Agriculture and local county extension office for a list of local growers, then contact those growers directly. If you have a land grant university in your area, contact their agricultural extension office for assistance, too.
Scout for a good location. Typically farmers' markets are held in places such as public parks, town squares, shopping malls, parking lots or community sidewalks. Look for locations where shelter, parking, restrooms and seating are available.
Speak to your local city council, explain how the community will benefit from creating a farmers' market in the location you've chosen, and obtain permission to use it on specific dates and times. You may need a special events permit and fee.
Layout the market. Avoid a scattered pattern. Maximize space and traffic, and strive for an attractive visual mix of stalls. Establish basic stall sizes based on the dimensions of standard pop-up or picnic tents to accommodate the vendors' shelters. Create a fee structure based on space size and location. Create signage for the market.
Ask a lawyer to develop vendor contracts that define the location, hours of operation, fees, and responsibilities of the vendor. Describe the penalties if vendors break the market rules or regulations.
Check with local health officials for permits and food handling regulations for food vendors who will sell at the farmers' market. Before contracting with food vendors, find out if they meet these requirements and require them to display permits at the stalls.
Ask a tax adviser if you are able to register for 501(c)3 nonprofit status from the Internal Revenue Service. If accepted, the enterprise will be exempt from income tax.
Consult an insurance agent to get the right insurance for managing a farmers' market. Some organizations like the Farmers' Market Coalition partner with insurance companies to provide insurance against commercial general liability.
Hire a qualified market manager. While you might be able to manage the market or rely on volunteers initially, managing a successful farmers' market is often a full-time job. You can find market managers from nonprofit organizations or from the city. In addition to other duties, good managers will inspect farms to make sure the produce sold is being grown there, notes the University of Florida IFAS Extension.