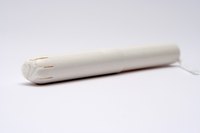 O.B. tampons offer women an unobtrusive feminine hygiene product with their unique design, requiring no applicator. A female gynecologist came up with the simple design during the 1940s, which featured nothing more than a cotton-blend tampon and a string. Using an O.B. tampon safely and effectively doesn't require very much as they are designed to be inserted easily with just a finger.
Wash your hands with soap and water.
Remove the plastic wrapper from the O.B. tampon.
Pull the string from the tampon slightly so that the bottom of the tampon flares out a bit.
Press your index finger into the opening at the base of the tampon.
Sit with your legs apart, or stand with one leg up on the toilet or the edge of the tub.
Aim your finger, in the base of the tampon, at a slight angle towards your lower back.
Insert the tapered end of the O.B. tampon into the opening of your vagina. Slide it in about 2 inches until it can't be pushed in any further. Make sure the string is dangling outside of your vagina.
Wash your hands with soap and water.