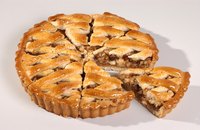 Having the best food products is a good beginning to selling them and profiting from the sales. Sales and profits require effective advertising and marketing strategies to inform people about the products and convert them to loyal customers. Effective tactics can include writing about the products on a blog and in newsletters and press releases, holding sampling events, exhibiting at trade shows and offering time-limited discount coupons. These approaches can help with obtaining new customers while keeping loyal ones.
Things You'll Need
Know your target audience, introduce and promote your food
Identify your target audience so that marketing and advertising strategies can be tailored to your potential customers. Conduct marketing research. Know the competition so you can position yourself within the market.

Hold sampling events at which customers can taste the food. If they like the food, they will tell their family and friends, resulting in word-of-mouth advertising. Grocery stores can be considered as locations, along with community events such as farmers markets. Consider being an exhibitor at the Fancy Food Show put on by the National Association for the Specialty Food Trade.
According to Marketing and Services Leadership, providing food samples is the oldest and most common marketing tactic in the grocery business. This is very common at Costco. The theory is that once a customer tries a sample of food, he is likely to purchase the item.

Use advertising options that motivate customers to act fast, such as limited-time coupons. These can be distributed in print or over the web. Learn to make coupons at the Home Business Center website. These can be used as a way to show appreciation for loyal customers.
Try low-cost advertisements, such as through a local coupon magazine.

Write about your business, on a website or through a blog. Write press releases regularly, particularly when there is a new product. Submit these to your local TV and radio stations. Write a newsletter and add to your distribution regularly by having customers sign up at events and through your website.

Use social media such as Facebook and Twitter to introduce and promote your food products. Facebook allows a business page to be set up once a regular personal profile is created. Let Twitter followers know about updates to products, new products and new writing such as blog posts.