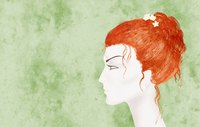 Whether you're a guest, the maid of honor or the bride, knowing how to create your own wedding hairstyles can help you save money on the big day. Salons can charge high fees for updos and elegant styles, but most women have the tools to create stunning hairstyles right in their own homes for free. These easy styles will work for women whose hair is long enough to pull back into a ponytail.
Things You'll Need
Curling or straightening iron
Comb
Hair elastics
Bobby pins
Hairspray and other styling creams or lotions
Twisted Updo
Make a deep, angled side part using the comb.
Grab the top section of hair (from above the ears to the center of the head) and twist tightly in the opposite direction of your part.
Holding the twist so that it doesn't unwind, secure all your hair (including the twisted section) into a low side ponytail. Add bobby pins to the twist to help secure it, if necessary.
Twist the ponytail around the hair elastic to form a bun. Secure with bobby pins and mist with hairspray to finish.
Long and Loose
Use a curling or straightening iron, depending on your preference, to prepare your hair for this half-up look.
Separate a small section of hair from the nape of the neck to the ear on both sides of your hair.
Pull these sections back to the middle of your head and secure together with a hair elastic.
Holding the two sections of hair apart just above the elastic to create a hole, tuck the elastic and ponytail through, creating a twist that also hides the hair elastic. Finish by pulling a few small strands out to frame the face.