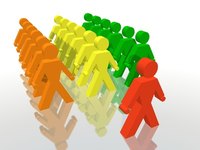 Core competencies are the source of an organization's competitive advantage in the marketplace. For example, an internationally renowned shipper's core competency would be logistics management, which allows the organization to provide on-time parcel delivery to its customer base. Core competencies are defined by skill sets or expertise that allow an organization to provide a specific benefit or added value to customers. In simpler terms, they are the factors that cause a customer to choose one product over another in the marketplace. In the example above, the organization's expertise (core competency) in logistics management is the influencing factor in the customer's purchasing decision. According to C.K. Prahalad and Gary Hamel, the authors of "The Core Competence of the Corporation," the following three characteristics determine a true core competency:
1-Relevance 2-Difficulty of imitation 3-Breadth of application
Brainstorm your products and services. Determine the factors that are important to customers when buying your products and services. Look beyond service features or product design in your bid to determine all customer decision-making criteria. There can be different core competencies for comparable products within the same industry. A good example of this is the automotive industry. Core competencies differ between economy cars, sports cars and luxury cars. We can reasonably assume that the core competency for an economy car is fuel efficiency, that the core competency for a sports car is a high-performance engine, and that the core competency for luxury cars is design.
Use the Prahalad and Hamel characteristic test to determine if the competency is core. 1- Relevance speaks to whether the competency strongly influences the customer to purchase the organization's product or service. A well designed online customer interface coupled with an effective delivery infrastructure would allow an online mail order business the ability to deliver fundamental benefits that would strongly influence the customer. 2-Providing products that are superior to those of your competition is a hallmark of having a product or service that is difficult to imitate. An example of this would be a manufacturer of portable, electronic devices whose core competencies include miniaturization and design. The combined expertise of these two core competencies provides significant differentiation from the competition, which makes their products difficult to imitate. 3-Thirdly, if the competency in question opens up a number of markets and can sustain growth, the breadth of application characteristic has been met. A business whose core competencies include bottling and distribution can expand the breadth of its operations by finding new products to bottle and distribute. True core competencies always can be applied to different product or service streams.
Incorporate your core competencies into your organization's strategic planning. Strategic responsiveness will help your organization gain or retain competitive advantage.
Review your core competencies on a yearly basis and consider improvement options. Identify the people, processes and projects that are critical to your core competencies so your organization can continuously develop and improve these to remain competitive over time.
Develop a list of core competencies that could help your organization carry forward its competitive advantage into the future marketplace. You might have uncovered some of these while completing the first two steps. Foster these new competencies. The ability to recognize the wants of customers in new markets and to work toward achieving the competencies to deliver these wants and needs is a successful trait of global leaders.