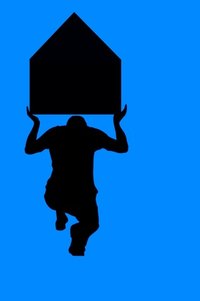 You can get help with a house payment from the government through your mortgage lender. The U.S. government has created the Home Affordable Modification Program (HAMP) as part of the Financial Stability Plan of 2009. Mortgage lenders that choose to participate in HAMP can offer immediate relief to homeowners behind on their mortgage payments or facing foreclosure. Being honest with, and providing good records to, the government and your lender can help you negotiate a more affordable house payment.
Things You'll Need
Request form
Tax returns
Pay stubs
Mortgage statements
Income and expense calculations
Explanation of hardship
Gather your documents. You'll need to provide copies of your most recent tax returns, pay stubs, and monthly mortgage statements. Also, create a detailed calculation of your income and expenses and a written explanation for your financial hardship. Make copies of all documents that you will eventually deliver to your lender. Write your name and your mortgage loan account number on every page of every copy. Keep the originals.
Contact a housing counselor. The U.S. Department of Housing and Urban Development (HUD) offers free foreclosure avoidance counseling in all fifty states. You can speak to a HUD-approved housing counselor by calling your state's HUD office or by calling the Homeowner's HOPE Hotline at 888-995-4673. Explain your situation to your housing counselor and ask about the most recent updates and information regarding loan modification programs you might qualify for.
Contact your lender. Ask if you can apply for a HAMP loan modification. A HAMP modification can reduce your monthly payment to 31 percent of your monthly gross income. Many homeowners receiving a HAMP loan modification save $500 per month or more. If your lender approves, you'll first enter a three-month trial period during which you're required to make lower mortgage payments in full and on time and submit copies of your required documents by a deadline.
Ask your lender for a Request for Modification and Affidavit Form. This form will make it easier for your lender to process your HAMP loan modification request. Fill out the form and follow your lender's instructions on mailing, emailing or faxing this form, along with copies of your other documents, to your lender. Get a receipt at the post office or keep the faxes, emails and confirmations that record the date you send your documents and trial period payments.