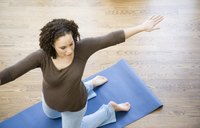 Late-night television is filled with infomercials promising quick and easy weight loss if only you buy this supplement or that plan. The truth is that while attaining a healthy weight takes time, it isn't complicated. Eat well, exercise regularly and pound by pound you will slim down. Diet is just one factor in achieving your goal weight. An overall healthy lifestyle that includes sufficient sleep, regular exercise -- aerobic and strength -- and stress management will also contribute to keeping the scale in check. Discuss concerns about your weight with your physician.
Defining Healthy
You probably have a number you'd like to see pop up on the scale, but your ideal weight can be very different from a healthy weight for your gender and height. Physicians use body mass index, BMI, as an indicator of a person's body fatness. You can look at your height on a BMI chart to determine a healthy weight range. For instance, a healthy weight for an adult who is 5 feet, 5 inches tall would be between 111 and 150 pounds. The wide range accommodates individuals who have a very muscular build or who are very slender. Discuss your weight and BMI with your doctor.
Losing Weight
Once you've determined a healthy weight for your frame, achieving it comes down to basic mathematics: 1 pound is roughly equivalent to 3,500 calories. To lose a reasonable 1 to 2 pounds per week, you need to create a calorie deficit of 500 to 1,000 calories per day -- meaning you'll eat fewer calories than you burn. The best way to create a calorie deficit is through a combination of dietary changes and exercise. Figuring out how many calories you burn each day takes some trial and error -- if you aren't losing 1 to 2 pounds per week, slowly reduce your calorie intake until you hit your weekly goal. The estimated calorie requirement for an inactive female is 1,600 to 2,000 calories per day. For an inactive male, the requirement is 2,000 to 2,400 calories per day. If you exercise every day, you may not need to trim too many calories from your diet.
Tracking What You Eat
A calorie deficit is a necessary part of weight loss, but don't do it with a crash diet. Instead, keep a food journal for several days -- including a weekday and weekend day -- to identify patterns in your eating habits. Write down everything you eat, as you eat, so you won't forget. Review the journal to look for healthy ways to cut calories. For instance, you might give up your evening bowl of ice cream, leave the mayonnaise off sandwiches or replace soda with water. Even little changes can make a big difference when it comes to weight loss.
Eating Healthy Foods
Consider your journey to a healthy weight not a temporary diet, but a lifestyle change. Eating well will help you maintain a healthy weight once you reach your goal. A healthy diet consists primarily of low-fat dairy, whole grains, fruits and vegetables, and it includes lean meat, eggs, beans, fish, poultry, nuts and moderate amounts of healthy fat such as olive oil. An example of a healthy meal might be a salmon fillet, brown rice, steamed vegetables, and fruit and yogurt for dessert.