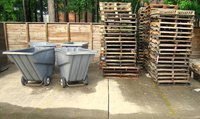 The International Plant Protection Convention, an organization affiliated with the United Nations' Food and Agriculture Organization, in 2002 implemented voluntary requirements for treating wood packing materials used in international trade. The standards, adopted by the United States in 2005, require treatment of any wood structures, including pallets, used in international shipping with either heat or fumigation. Any solid wood used in a pallet is subject to these requirements.
Things You'll Need
Air tight chamber
Methyl bromide
Air quality testing equipment
Thermometer
Place the pallets, or the lumber that will be built into pallets, in an area that is as air tight as possible. Commercial fumigators often have tarps they can place over the lumber.
Mix the methyl bromide according to manufacturer's instructions. Monitor the temperature of materials inside the fumigation chamber and the gas levels during the fumigation process. Depending on the temperature, typical fumigation times can be as long as 24 hours.
Vent the fumigation area to the outside. Confirm the gases have dissipated by taking gas readings before allowing anyone into the fumigation chamber.