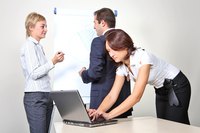 The SWOT analysis is a common business tool for identifying pros and cons and making strategic decisions. It requires brainstorming and the ability to be engaged in every level of the business being evaluated. Strengths, weaknesses, opportunities and threats (SWOT) incorporate internal and external factors of the business environment. The diagram is an easy tool to create, but collecting the information to identify training needs may be a challenge.
Things You'll Need
SWOT diagram
Employee participation
Create a diagram in four equal sections. It should look like a box with room to label strengths, weaknesses, opportunities and threats in each section. This tool can be created using a computer or a piece of paper.
Separate the internal sections from the external sections. For example, strengths and weaknesses are considered internal issues that could deal with the employees' current abilities. External components are the opportunities and threats. In other words, this means factors that are not directly controlled by the employees or the company. Environment and political climates could be significant examples.
Evaluate each department that requires training. For instance, the marketing department may need additional training in SEO techniques to compete strategically for Internet traffic. The issue may be that the staff has a limited knowledge base of SEO. The SWOT will identify this as a training need, which is better known as a weakness category. This is something that can be altered with additional education.
Consider the current status of the company to probe for more questions. Set up a brainstorming meeting with managers and employees to find out what they believe about the company's pros and cons. For example, there may be a strong brand presence and longevity in an industry. To the contrary, there may be a lack of customer service training for certain circumstances. If a meeting is not possible, inquire through a survey about problems, possible solutions, perceived barriers, etc. This process will enable the SWOT to be reviewed and used as an improvement tool for future success.
Managers must list every point considered in the correct category, and work on each section to enhance the company. It is best to solve the weaknesses first because they are internal issues. External issues should be recognized, but worked on last. The SWOT helps prioritize a company outlook, and enables managers to have a diagram to brainstorm in a coherent manner. Training needs will organically be exposed from the meeting and survey.