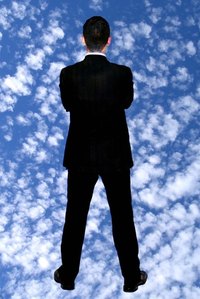 Running a company is a learning process. While you may have adequately planned things out ahead of time, everything will not always work out the way you wanted it to. This is sometimes the case when it comes to the name of the company. Whether you inherited a company with a name you don't like, or named your company in a way that hasn't worked out, coming up with a good new name is crucial. It's a great way to give your company a fresh start.
Determine how much it will cost to change names of the company. Call companies to get estimates on things such as new signs and new advertising materials, and find out how much any new government licenses will cost. If you have financial records from when your company first opened, they may give you an understanding of what the change will ultimately cost. It's imperative that you understand that changing a company's name is not always the easiest way to go. So make sure it's a needed solution, and not just an impulse decision.
Write down a list of names that could represent your company. Search online and through the Yellow Pages to see what other companies in your field are named. Consider the difference between the names of the most successful companies and the companies that aren't so successful. Industry books may also give you a good idea of what might work. Also, consider the reasons why your company's original name didn't work out in the first place. The work you put into this step can save you from having to bring in a consulting firm, which will cost a lot of money.
Ask for the advice of trusted people within your company. Consider their feedback and try to get your list down to two or three solid company names. Make sure the tone of the names reflect the tone of your company. For example, if you sell children's toys, you'll have a lot more naming leeway than if you sell gravestones.
Check for problems with each name. Ask people to spell the name. If it can't be easily spelled, it won't be easily found. Then, sound out each name and make sure it's easy to pronounce. Also, you should fit the new names into your logo, whether old or new, and make sure it looks good in print.
Decide if each name is easy to remember. Try this out on a few people by mentioning the name casually and then asking them an hour or two later if they still remember the name you told them. Even the most clever names are not beneficial if they are easily forgotten.
Choose a favorite name and then type it into various Internet search engines. Not only will this give you a chance to see if there are companies out there already with that name, it will show you what that name will be associated with when searched.
Search through the website database for the United States Patent and Trademark Office at uspto.gov. The final step toward finding your new company name is making sure that it's legal to choose the name.