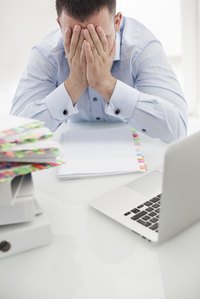 Financial hardship can result from a sudden, unexpected incident or can be ongoing due to poor job prospects or financial mismanagement. Overcoming your hardship involves getting a handle on your budget and making smart financial, occupational and educational choices.
Make a Budget
Track where every penny comes from and where it goes. Creating a household budget can help you prioritize and use whatever financial resources you have to pay the most vital expenses first -- like food, housing and shelter. It can also give you confidence and a feeling that you have control over your financial decisions, which reduces the stress that accompanies money woes.
Live Within Your Means
Some financial hardship is self-inflicted by living above your means. Shop at discount or thrift stores rather than high-end department stores, clip coupons and carpool instead of owning a car. Look for free or low-cost entertainment venues rather than spending money on vacations or shows. Eat at home and take your lunch to work or school to reduce costs. Resist the urge to buy things on credit or take out loans.
Get a Second Job
Find a secondary occupation to improve your cash flow. Consider freelance work related to your field or a part-time position -- even seasonal work can improve income levels. If a second job isn't realistic, ask your current employer for additional shifts, overtime or special projects that can boost your salary.
Reduce Debt
Eliminating debt can reduce the feeling of financial hardship, especially if you can pay off high-interest loans that never seem to reflect a balance reduction. Start by paying off your highest interest credit card or loan first, then apply double payments to the next highest loan until it's paid off. Repeat the cycle until your debt is gone. If you can't do it on your own, seek credit counseling assistance from a reputable professional.
Get Job Training
If you're stuck in a low-paying job, go back to school and learn new skills or ask about on-the-job training or mentoring at your place of work. Consider night classes, trade schools or continuing education opportunities to enhance or expand your knowledge or help you learn valuable new skill sets. Some employers reimburse staffers for tuition, so ask your boss about your company's policies.
Maintain a Positive Attitude
Financial hardship can lead to stress, which makes it difficult to have the confidence necessary to overcome money challenges. Maintain a positive attitude by setting realistic goals, continually monitoring your progress and celebrating your financial achievements.