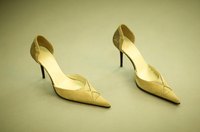 The socialite woman is the epitome of class and natural elegance. She is often associated with philanthropic efforts, but her style may be what sets her apart. As with her demeanor, her style is always elegant and effortless. A socialite is confident and is never seen without impeccable clothing, expensive accessories and perfectly groomed hair. An extreme amount of money is funneled into the socialite's wardrobe, reaffirming that the quality of clothing is the most important factor when dressing like a socialite.
Things You'll Need
High-end designer clothes
Designer shoes
Couture gowns
Expensive jewelry
Designer handbags
High-quality makeup
Updated haircut
Manicured nails
How to Dress Like a Socialite Woman
Wear high-end designer clothes. A homogenous combination of trendy and timeless pieces crafted by well-known designers balances out the wardrobe. Items worn should reflect current fashion trends.
The socialite also wears essential fashion staples, such as the classic Chanel tweed suit. Shopping for these items is best done at boutiques and posh department stores such as Saks Fifth Avenue and Neiman Marcus.
Accessorize with expensive designer pieces. Exclusive shoe brands such as Jimmy Choo and Christian Louboutin coordinate perfectly with the socialite's style. The handbag is also a key accessory, and calfskin leather purses are a common choice amongst socialites.
The iconic Hermès Birkin bag is featured regularly on the arms of socialites, with the cost upward of $10,000. Fine jewelry is also a very important accessory and should be worn simple and uncluttered. Tiffany's and Cartier are both prime spots to shop for elegant jewelry.
Always appear well groomed. In addition to wearing the latest trends, it's also very important to be hygienic overall. Hair should always be kept healthy and nicely styled, and a flattering yet trendy haircut must constantly be maintained. Frequent manicures are also a necessity to polish off your look.
Use high-quality makeup. To achieve the flawless face of a socialite, makeup from high-quality brands such as Chanel or Yves Saint Laurent should be used. Makeup should never look overdone and should simply enhance your natural beauty.
Practice a demure and confident demeanor. The only intangible item on this list is the attitude that socialites are characterized by. You should carry yourself in a manner that allows people to recognize your importance and position in society. Always be respectful towards others and undertake charitable efforts whenever possible.