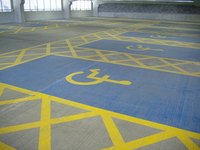 Canadians who are not able to do any job due to sickness or injury can apply for the the Canada Pension Plan Disability Benefit. To qualify for this benefit, you must have a doctor confirm that you suffer from a prolonged and serious condition that prevents you from working in any capacity. You must also have been making regular CPP contributions over the previous three years. The amount you receive depends on your previous CPP contributions, but, as of 2009, the minimum monthly payment was $424.43 and the maximum was $1,105.99.
Go to the CPP Disability section of the Service Canada website. Find a link to this page in References section.
Click on "I want to apply." This takes you to a page giving details about the CPP disability pension, who is eligible and how to apply.
Click on "Am I eligible." The CPP disability pension has very specific requirements on who is eligible to receive benefits. There are thresholds regarding your age, how many years you have contributed to the CPP and what percentage of your income you contributed to the CPP that must be met for you to qualify. Confirm that you meet these criteria before proceeding with the application.
Click on "How do I apply." You can find this on the same page as the "Am I eligible" section.
Click on the link for "Application for Disability Benefits." This takes you to a page where you can download all of the necessary application forms in HTML or PDF formats. You can also have the application kit mailed to you by contacting Service Canada at 1-800-277-9914. Agents are available weekdays between 8:30 a.m. and 4:30 p.m.
Fill in the application. In the first part of the application you must give personal information such as your address, marital status, pension contribution history and information about your dependent children.
Fill in the personal information consent forms. You must complete two different personal information consent forms: one for Service Canada and one for your doctor.
Take the medical report forms to your doctor. You and your doctor need to fill in these forms together and he will send them directly to Service Canada.
Fill in the questionnaire. In the questionnaire, you must give detailed information on your medical, health condition and previous pension plan contributions.
Fill in the Child Rearing Provision Form. You must to complete this form if you want increased benefits due to having dependent children.
Mail all of your completed forms to Service Canada. You can find a list of Service Canada locations in Resources.