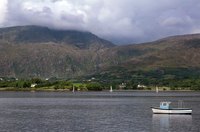 To run a successful bed and breakfast in Ireland, you need to do research and make sure people know what you are offering. Ireland is full of bed and breakfasts. This type of accommodation is popular among travelers, as it provides access to rural areas and a more personal lodging experience. However, because of this popularity, visitors have lots of choices, and that means you will have lots of competition. Bed and breakfasts in Ireland are almost always situated in private homes, many of which have been specifically built to run this type of business.
Things You'll Need
Advertising
Tourist board approval
Research the location of your bed and breakfast. To run a successful one in Ireland, you'll need to know your region well. Fully research the attractions in your area that will attract tourists. If you are in an area that does not have much to offer tourists, consider other ways you can make your bed and breakfast successful in the setting.
Get approval from Fáilte Ireland, the official tourist board of Ireland. It has a ranking system for bed and breakfasts, starting with two stars and going up to five, similar to hotel categorization. Bed and breakfasts in Ireland are also categorized by what they offer and what attractions are nearby. Fáilte Ireland uses three main categories: farm stay, outdoor activities and food specialist. Having a stamp of approval from the Irish tourist board lets tourists know that your place meets a quality standard.
Being approved also means that your bed and breakfast will be listed on DiscoverIreland.ie, an official tourist board website that gets millions of visits per year. When a tourist visits a tourism office in Ireland, the office can provide her with details of your bed and breakfast. The tourist board also offers approved businesses advice on marketing and training.
Build a professional website. With so much travel being booked and researched online, it is important to have a professional-looking website to tell potential guests about your bed and breakfast. This website should show pictures of your bed and breakfast, provide contact details (including a phone number), list details of all nearby activities and sights that tourists would be interested in, list prices and list the facilities you have, along with the type of breakfast you offer.
Provide modern facilities and a good choice of breakfast. Most people looking to stay in a bed and breakfast will want an en-suite bedroom. Bedrooms that have this type of bathroom are good for business. Also make sure you offer a good breakfast. A full Irish breakfast is something many tourists want to experience in Ireland. It consists of Irish sausages, rashers, eggs and toast. Make sure you have other options, such as cereals, muffins, pastries, fruit and vegetarian selections. Always serve fresh juice, coffee, tea and mineral water.
Advertise your bed and breakfast in Ireland. Get your place listed on websites that specialize in providing accommodations in Ireland. Also look into advertising in magazines and newspapers that are aimed at those traveling to Ireland. Hang the Irish tourist board's bed and breakfast sign in a prominent location outside your property, preferably near the road where passing traffic will see it. Contact travel agents that book accommodations for those traveling to Ireland and ask how you can get listed with them.
Provide clean accommodations. If your facilities are clean, your guests are more likely to recommend you to others. Always put fresh linens on the bed and in the bathroom for each new guest. Also, clean the room thoroughly after each guest checks out.
Be friendly and helpful. Welcome guests to your bed and breakfast with friendly conversation and offer to help them find attractions in your area.