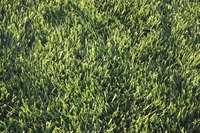 Power seeding requires a machine that combines seeding with vertical mowing. As the seeder moves across the lawn, it creates holes and places a seed in each hole. This benefits the gardener by precisely planting the seeding at the correct depth. Amend or fix any problems that you have with the soil. Once grass seed is established, it is more difficult to fix any pest or weed problems. By using a power-seeding machine, you can evenly cover your yard with turf seed.
Things You'll Need
Power seeder
Tiller
Rake
Dirt
Grass seeds
Compost
Garden hose
Rent a power seeder from your local gardening supply store or hardware store. Generally, you can rent a power seeder for one day or a couple of days, depending on the size of the yard.
Till the yard with a tiller to break up any clumps that are larger than a half dollar. Remove any other vegetation or weeds by digging with a shovel or pulling by hand.
Level the yard with the back of a rake. Add dirt in areas that are not level or have holes. Power seeders need a flat surface to properly distribute seeds. Water the yard for three days in a row prior to seeding.
Pour the seeds into the power seeder. The amount per 1,000 square feet of yard space that you distribute seeds depends on the grass type. For instance, ryegrass should be planted 8 to 10 pounds per 1,000 square feet while bermuda grass should be planted 1 to 2 pounds per 1,000 square feet.
Push the power seeder back and forth across your lawn. Rake 1/4 inch of compost over the grass seed. Water the area thoroughly.