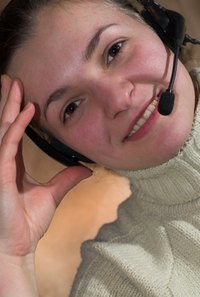 In today's market, everyone has a specialty. Whether it's the lowest prices or the best quality product, every company tries to classify itself as the best at what it does. However, all of these pitches are empty talk without the service to back it up. As such, communication with the customer is of the utmost importance. This communication can be improved, pushing your company to the next level, if you follow a couple of simple steps.
Listen to the customer. It seems simple and intuitive, but active listening is one of the most important components of effective communication. Take notes on what the customer is saying, and rephrase their concerns to confirm that you understand what their complaint, concern or question is.
Be informed. Effective communication is educated communication. Before addressing the customer's comment, make sure you have all the right information. There are two parts to this. First, try to be as educated as possible on the pertinent subjects of your business. Investigate every topic related to your products, services, market, and legal obligations. This will help you to be able to instantaneously respond to customer issues in an informed manner. However, because you can never know everything, be willing to tell the customer that you have to do some research to make sure you are giving them an accurate response, and look it up before answering to their comments. Customers will appreciate your thoroughness.
Follow up. After the initial communication has ended, be sure to contact the customer again to ensure that their concerns have been adequately addressed. This does a few things. First, it confirms that the answer you provided was adequate, which is not only good customer service, but aids you in answering similar questions in the future. Second, it allows the customer to ask any follow up questions necessary, which expands your knowledge base and leads to a more satisfied customer. Moreover, customers who feel taken care of are more likely to become frequent patrons of your business, impacting your bottom line.