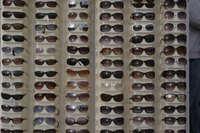 Frame displays, also called "frame boards" are vertical, usually wall-mounted acrylic frame holders. Frame boards are the primary means of displaying spectacle frames in optical retail stores.The glasses are usually hung in rows on the frame boards but some displays have rows of trays that permit the frames to be displayed with the temples folded, similar to how glasses look sitting on a table. Keeping your frame boards maintained well helps build sales and projects a professional image.
Things You'll Need
Organize frames by type. Frames are available in two basic materials, metal or plastic frames. Separate frame boards by keeping all plastic frames in one area and all metal in another. Subgroup frames by keeping plastic rimless frames grouped together in the plastic display and rimless metals grouped together on the metal frame boards.
Frames can be full-frame, rimless or semi- or half-rimless frames, according to the website Eyeglasses.com. A full completely encircles the lens, half-rimless frames have a frame only on top or bottom and rimless frames have no front on the frame at all.
Group frames by gender. Use separate boards for plastic and metal styles for women and the same for men. If room allows, keep men's frames on one side of the room and women's on the other to make the distinction notable and easier for your customers to shop for their eyeglass frames.
Place sunglasses on a board by themselves. Frames for children should be displayed in a separate area also. Subgroup each of these boards by keeping metal sunglasses together, plastic sunglasses together, metal and plastic frames for children separate too.
Enhance and attract using colorful props and decorations. Starfish, beach towels and other outdoor items can be used to coordinate a sunglass display. Sporting goods items can be added to sports frames. Scarves can be used to enhance women frames.

Keep frames and lenses clean, dust the display board frequently and keep everything well-maintained. Clean all the nooks and crannies where dust accumulates. Many frame boards have back-lighting. If lenses burn out, replace them immediately.
Rotate displays to keep things fresh, but remember to keep all the genders and styles together if you relocate the sections. Frame styles change frequently. New frame styles are released frequently according to All About Vision and style-conscious shoppers appreciate fresh looks and the newest trends. Keeping your frame boards stocked with the newest styles will help motivate your customers and increase sales.