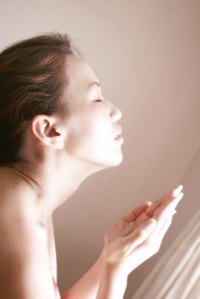 The National Institutes of Health (NIH) states that zinc is integral for a healthy immune system. Administered topically or orally, according to WebMd, zinc helps tame oil production in the face, which may help to prevent acne and clear up acne faster. Sometimes acne is a sign of a zinc deficiency.
Vitamin B2, or riboflavin, is an essential vitamin used to treat, among other conditions, various skin disorders, including dermatitis, eczema and acne. Vitamin B2 is administered orally.
Things You'll Need
Skin care products with zinc
Lean meats
Legumes
Eggs
Dairy products
Peanuts
Peanut butter
Green leafy vegetables
Zinc vitamin supplements
Vitamin B2 supplements
Use Topical Products with Zinc
Cleanse an oily face with a gentle oil-free product that contains at least 2% zinc or zinc oxide.
Sephora Collection's Cleansing Water is gentle, and the addition of zinc halts excess oil production. DERMAdoctor's Born To Be Mild Medicated cleanser is effective on both the face and body.

Apply a toner or astringent to further reduce oiliness. Givenchy's Tone It True Mattifying Lotion contains a zinc concentrate to remove excess oil.
Moisturize using an oil-free product with at least 5% zinc, such as DDF's Glycolic 10% Exfoliating Moisturizer, Sephora Collection's FACE Hydrating Balancing Cream - Combination To Oily Skin, REN's Vita-Mineral Radiant Day Cream, or Caudalie's Vinopure Matte Finish Fluid.
Protect your face from the sun by using a sunscreen with at least 10% zinc or zinc oxide and SPF 15. Boscia's Illuminating UVA/UVB SPF 30 is oil-free and protects using zinc oxide and titanium dioxide. Korres' Watermelon Sunscreen SPF 30 comes in a convenient stick, while some inexpensive alternatives are Neutrogena, Blue Lizard and Nature's Gate.
Exfoliate dead skin build-up, which exacerbates oiliness and acne. Use a zinc-rich mask once or twice a week, such as Ole Henriksen's Blemish Attack Purifying Mask, Caudalie's Purifying Mask, or Peter Thomas Roth's Sulphur Cooling Masque.

Increase Intake of Zinc and Vitamin B2
Eat foods rich in zinc and vitamin B2 to help with oily skin. Zinc is found in high-protein foods, says the NIH, such as beef, pork, lamb, and the dark meat of chicken, as well as peanuts, peanut butter, and legumes.
Vitamin B2 is found in lean meats, eggs, legumes, nuts, green leafy vegetables, and dairy products. Sometimes breads and cereal are fortified with vitamin B2. Store these foods in a dark place as light can destroy the vitamin.

Take zinc and vitamin B2 dietary supplements, which can be found in drugstores, supermarkets, or health food stores. However, certain foods, such as those high in fiber, like bran or whole grain breads and cereals, as well as those containing phosphorus, like milk and poultry, prevent the body from absorbing zinc properly, according to the Mayo Clinic. Also, zinc shouldn't be taken with other supplements, such as copper or phosphorus.
Vitamin B2 supplements rarely result in allergic reaction or side effects.

Talk to your doctor about whether or not you're getting enough zinc and vitamin B2, if you need supplements, and what the possible side effects and interactions might be.