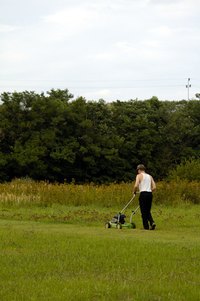 Changing the oil in your Craftsman 675 Series lawn mower, like changing the oil in your car, extends the life of the engine and keeps it running efficiently. Dirty engine oil breaks down over time, reducing the oil's ability to reduce friction, dissipate heat and keep the engine clean. Choose a viscosity grade according to your expected operating temperature and keep fresh oil in your lawn mower by changing the engine oil each season or after every 25 hours of normal operation.
Things You'll Need
Empty the fuel tank by running the mower until empty.
Disconnect the spark plug wire. Secure the wire where it cannot come into contact with the spark plug.
Remove the oil cap and tip the lawn mower onto its side to allow the dirty oil to drain into the oil pan. Remove any excess oil trapped inside the engine by gently shaking the mower.
Pour a few ounces of fresh oil down the oil fill spout and check the oil level with the dipstick. Continue adding oil a few ounces at a time until the oil reaches the "Full" mark on the dipstick.
Wait one minute to allow the oil to settle.
Recheck the oil level with the dipstick and, if needed, add small amounts of oil until the oil level settles at the "Full" mark on the dipstick.
Replace the engine oil cap and clean off any spilled oil from the mower or engine.
Reconnect the spark plug wire to the spark plug.