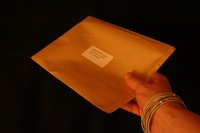 If a bank believes you have handled your account improperly, it may notify the consumer reporting agency Chex Systems. Chex Systems will keep the information on record for five years and report it to other banks that subscribe to its service. If a bank has reported you to Chex Systems or you have been turned down for a new bank account due to what is on your Chex Systems report and believe the information is incorrect, you can dispute it directly with Chex, according to the Fair Credit Reporting Act.
Order a copy of your report through Chex Systems' consumer website linked in the References section.
Check the report for errors after you receive it. If you see an error, gather documentation to prove it is wrong, such as bank statements or canceled checks.
Print out the Consumer Request for Reinvestigation form from Chex Systems' website or write a letter describing the error. Enclose copies of any documentation. Keep a copy of the completed form or letter for reference.
Mail the dispute and documentation by certified mail to: Chex Systems Attention: Consumer Relations 7805 Hudson Road, Suite 100 Woodbury, MN 55125 Chex Systems also allows you to fax the dispute to 602-659-2197 but certified mail provides proof that you sent it and the company received it.
Wait 30 days (21 days if you're a Maine resident), the amount of time required by law for Chex Systems to investigate and respond. If Chex Systems finds the information inaccurate, it will report that it has been removed. If it reports that it has verified the accuracy of the information, you can request that a statement be added to your file to present your viewpoint. Fill out the Request for Consumer Statement form (linked in the References section) and mail or fax it to the same address or fax number.