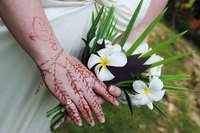 Henna is a naturally occurring dye traditionally used in fabrics and temporary skin designs. Henna tattoos are a popular option for people who are interested in body art but don't want to commit to the permanence or pain of a tattoo. Henna ink can be applied to the skin where it is absorbed over a period of several hours. Traditional henna ink is derived from the stems and leaves of a henna tree, but you can make homemade henna ink with dried henna powder.
Things You'll Need
Sauce pan or kettle
Sifter
Strainer or cheesecloth
Spoon
Glass mixing bowl
Towel or plastic wrap
1 cup water
2 tbsp. black tea leaves or coffee
3 tbsp. henna powder
1 tsp. eucalyptus oil
Boil 1 cup of water in a kettle or sauce pan. Use the boiled water to make your coffee or tea by mixing the tea leaves or coffee grinds into the boiled water. Let the mixture steep for at least two hours.
Pour the liquid through a cheesecloth or strainer over a bowl once it has cooled to remove any debris from the water. Set the cleaned tea or coffee aside.
Use a sifter to sift the henna powder over a clean glass bowl. Add the eucalyptus oil, but do not stir the mixture.
Add the tea or coffee to the bowl of henna about 1 tbsp. at a time, stirring the mixture gently between each addition. Press the wet and dry ingredients together with the back of the spoon. The ink will be lumpy.
Cover the bowl loosely with plastic wrap or a dish towel and let it sit for at least six hours or overnight at room temperature. The ink will become smoother the longer that it sits. Stir the henna ink after it sits to smooth any remaining lumps. The henna ink is ready for application.