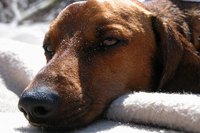 The University of Maryland Medical Center (UMMC) states that slippery elm bark is a "time honored" remedy for diarrhea and stomach upset as well as for burns and wound care. It's also a good stomach upset remedy for dogs. Slippery elm is made from the inner lining of elm bark, and when mixed with water becomes a mucus-like gel which coats the entire digestive tract. It does not have a strong taste and most dogs won't object to it in their food, but there are some tricks if your dog is picky or doesn't have much of an appetite.
Things You'll Need
Slippery elm powder
Container
Mix 1 tbsp. of slippery elm powder with 12 oz. of boiling water or low-sodium broth, or follow label directions. Allow it to cool--it will thicken as it cools.
Give 1 tsp. of the liquid to puppies or dogs under 20 lbs, 2 tsp. to medium-sized dogs, and 3 to 4 tsp. to large dogs.
Mix the slippery elm with your dog's food. If your dog doesn't have much of an appetite, encourage him to eat it with a little canned dog food, tuna, or something else he really enjoys eating.
Give the slippery elm with a syringe if your dog refuses to take it any other way. Have her sit or stand with you behind her so she can't back up. Gently raise her head. Insert the syringe into the corner of her mouth aimed toward her throat and quickly depress the plunger. Praise her and rub her throat until you feel her swallow.
Administer slippery elm two to four times a day.