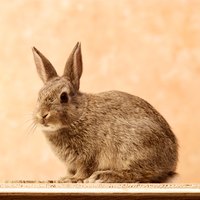 Rabbits are nutritious, inexpensive to raise and take up little space and time in care. Texas has a longstanding tradition of hunting and eating rabbit, but more recently, commercial rabbit farming has become popular in that state on both a farm-sized scale and in the backyards of private homes. Even a small home operation can provide a family with healthful, drug-free meat, and the project requires only a basic understanding of rabbit-raising procedures.
Things You'll Need
One or more buck (male) rabbits
One or more doe (female) rabbits
Hutches
Rabbit chow
Water bottles to hang in cages
Shed or shaded area
Choose how many pair of rabbits you want to raise, so that you know how large a facility to create.
Install cages or covered hutches that measure about 30 inches square to house two does and 24 inches square for each buck, each about 18 inches high. Add at least two more of the larger cages to house weaned kits (offspring). Choose cages with a welded 14-gauge wire bottom for sturdiness and to allow waste to drop out. Equip the cages with easily filled clip-on water bottles.
Choose what breed of rabbit you want to raise. Choose cross-breeding rabbits rather than show rabbits for a meat source because the kits grow faster and larger.
Feed your rabbits twice day, and allow the kits to eat all they want with a target weight gain of four or five pounds at 8 weeks old. Stock rabbit food that is about 15 percent protein to maintain the breeding stock and promote fast growth.
Breed rabbits on a regular schedule, which will be about every three and a half months. This includes 30 days of gestation, six weeks of weaning and 30 days for the doe to rest after weaning.
Provide for extreme northern Texas winters by wrapping cages with old blankets during cold fronts. Prepare for state-wide heat waves by ensuring the rabbits have somewhere to go that is at least 10 degrees cooler than the outdoor temperature, whether it is under trees or in a ventilated shed. Place sprinkler hoses on an enclosure's roof and turn them on. Also wet the ground around cages with a hose. Both of these actions will reduce the surrounding temperature. Line the cages the wet towels or burlap, if necessary.