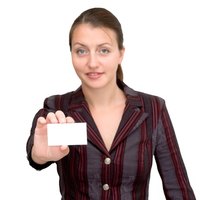 Feng shui (pronounced "fung shway") is the ancient Chinese art of placement. It literally means "wind and water," and the idea behind the practice of feng shui is to arrange your environment to increase the flow of "chi" (the universal life force) through your surroundings. It is thought that chi should flow through the atmosphere like water and wind flow through the natural world. If it is blocked by a badly placed item, the life force may become sluggish. Feng shui principles increasingly are being used in all aspects of the business world, including business-card design.
Choose a card size that is smaller than 2 inches in both dimensions, since any measurement between 2 and 6.5 inches is considered bad luck. Choose card stock that is white, green, brown, blue or metallic, all of which are auspicious, with black ink.
Create a logo that incorporates curves and colors that fit your elements. Your personal element is determined by your date of birth. You can find your personal element online and then use it to look up which colors, metals and shapes are the most auspicious for you. Different types of businesses have elements you can also look up. A successful logo or business card will combine the feng shui of both your personal element and the element of your business. If you must use a pre-existing logo that includes sharp lines or angles, place it so that it doesn't point at your name or the company name.
Lay out the text of your business card so that your name, in bold text, is on the top line, signifying you are in control. Place your title under your name in the same size font, though not in bold. Skip a line or two before adding your contact information. Center everything left-to-right. If you include a company logo, make sure it balances with the text.