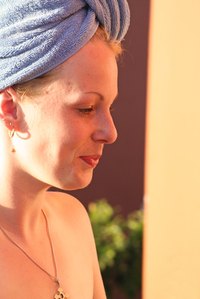 Wrapping a towel into a turban involves a few twists and a tuck. You can use a towel turban to keep your hair out of the way when drying off from a bath or shower -- and since the turban absorbs moisture, it will also make drying your hair quicker.
Use a lightweight towel for best results. Thicker towels can be difficult to tuck into place. Linen stores often sell towels designed for hair use.

Lean forward with your hair falling forward over the top of your head. Pull a towel around the back of your head. One long side of the towel should run across the nape of your neck. Place the towel so that the sides hang evenly on either side of your head.
Bring the two hanging sides of the towel together in front of your forehead. Gather the sides together and twist them toward the top of your head.
Raise your head, holding the twisted towel in place above the top of your head. Pull the twist over the top and behind your head. Tuck the end of the twist underneath the part of the towel that is snugly wrapped around your head. If needed, use clips or bob pins to hold the twist in place.