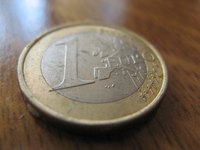 Ireland is a popular travel destination for Americans, whether for a vacation, business, or visiting family and friends. Since 2002, Ireland has been one of the European countries that uses the Euro as its official currency. Changing your US currency into Euros before traveling around Ireland will save you time, and may be more convenient than using credit cards in rural areas.
Things You'll Need
Photo identification (passport or driver's license)
Monitor the exchange rate between the US dollar and the Euro for a period of time in order to get the most favorable rate (and therefore the most Euros for your dollars.) XE.com will calculate currency conversions according to the latest published rates. CurrencyRateCalculator.com offers an RSS feed and the option to sign up for currency exchange email alerts.

Withdraw US dollars from your bank, and take the currency to a bureau de change, bank, or other currency change facility. You can find currency exchanges in most major banks and cities, or at airports in the US or Ireland. Some hotels also offer currency exchange facilities, though rates can be variable.
Present your US currency and government-issued photo identification at the currency exchange facility. You will receive the equivalent amount of Euro currency, according to the Euro selling rate of the day. Euros are accepted throughout Ireland.