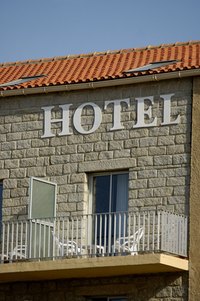 Repurposing an existing hotel for use as senior independent living involves knowing exactly what future residents will need in order to live efficiently and comfortably. Rehabilitating an existing building and making new residences for seniors creates new jobs, improves the local tax revenue base and brightens community spirit and the local economy. When completed, each occupied unit will become lovingly referred to as "my place" by new residents and provide a favored place to visit for friends and relatives.
Things You'll Need
Government approval
Building permits
Existing building plans
New architectural plans
General contractor
Project manager
Start and completion dates
Funding
Certification for occupancy
Prepare a Clear and Concise Plan
After receiving government approval and building permits, collaborate with the general contractor and your project manager to formulate an action plan, incorporating principles from both the original and new plans. All parties involved in the conversion project share concepts found in the 2006 International Building Code and its reference to requirements of independent living. Keep the plan simple. Emphasize the start date, completion (or finish) date and budget constraints. On the actual job site, in a conspicuous location, post the name and contact number of the project manager.

Launch each workday by prioritizing the labor required from various trades. The project manager will motivate and maximize work produced by being on site daily. Implement personnel changes as quickly as possible to keep the job on schedule and within budget.

Anticipate visits from code inspectors. Schedule code inspections during times the project manager will be present; the results of your code inspections will indicate the level to which your workers are performing.

Check the job site frequently, unannounced. Review the quantity and quality of work, and determine whether or not the project is proceeding on schedule. Communicate your findings to the project manger.

Conduct a "punch list" walk-through with the general contractor and the project manager. Evaluate work completed, and highlight work that remains unfinished. Reinforce the importance of completing the project on or before the targeted date.

When your team has completed the job, apply for a certificate of occupancy.