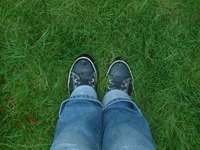 Grass stains rank right up there with oil and blood stains as being especially difficult to eradicate. We have all encountered them from time to time. But before admitting defeat and tossing out your once beloved but now grass-stained garments, know that the battle has not yet been lost.
Things You'll Need
Bleach or spray stain remover
Laundry detergent or enzyme detergent
Cotton wash cloth, sponge, or scrub brush
Address the stain immediately by wetting the fabric with warm water and rubbing in a regular laundry detergent or enzyme detergent, such as Nature's Miracle, directly on the stain with a cotton wash cloth or wet sponge. Scrub brushes can be used on fabrics that can tolerate the friction. Be sure the area is saturated and soap has permeated completely through the material, then let it set for 10 or 15 minutes. The best way to remove a grass stain it is to act quickly, or the stain may permanently set.

Rinse and assess the stain to see if more work needs to be done.
Bleach white clothing if a stain remains by soaking the stained fabric material in 1/4 cup bleach per gallon of water for five minutes. Be sure to check clothing labels to make sure item is bleachable. Certain fabrics such as acetate, leather, silk, spandex and wool cannot be bleached without damaging or discoloring the material. For colored clothing, spray a stain remover onto the affected area.

Rinse the the bleach completely from the material before transferring the garment to the washing machine to prevent bleach spots on the carpet or flooring. Colored clothes that have been pretreated with a stain remover can be put directly into the washing machine.

Wash garments on cold or warm with regular detergent such as Tide or an enzyme detergent in a regular cycle.

Dry in a dryer only after you have determined that the stain has been successfully removed. Hang or lay out to dry if another attempt to remove the stain will be made on a later date.