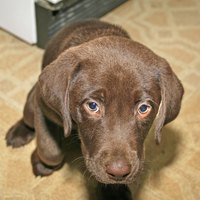 Puppies are adorable creatures that are extremely playful and full of energy. New puppy owners at times may feel overwhelmed by a puppy's level of hyperactivity; however, there are many ways to keep a puppy entertained during the day. A good place to start is to first ensure the home is ''puppy-proofed,'' in other words, safe for the puppy to live in. This means placing out of his reach electrical cords, small objects, poisonous plants, chemicals, medications and indoor and outdoor hazards, according to Katharine Hillestad, DVM. Once the home is proven to be a safe haven for puppy, a variety of toys and fun activities may incorporated in his life.
Things You'll Need
Buckle collar
Leash
Proof of vaccination
Place a simple buckle collar on your puppy if she is already leash-trained. Take her for a brief walk where she will get to meet different people and places. Allow different people to speak kindly to the puppy, pet her and offer tasty food treats. Puppies require a good dose of socialization in order to perceive that exposure to strangers is an accepted part of life, according to Dr. Nicholas Dodman, a Diplomate of the American College of Veterinary Behaviorists and Professor.

Enroll your puppy in puppy classes. Many veterinarians are pointing out the importance of learning programs for puppies and new puppy owners. Such programs should enroll puppies from eight to 12 weeks of age that have received at least their first series of vaccination against infectious diseases, according to Robert K. Anderson DVM.
Plan a fun game where your puppy must use his senses to search for delectable treats. Hide them around the home and let the search begin. This makes a nice interactive game and a good "rainy-day" activity for your dog, according to the Humanesociety.org.
Provide your puppy with a safe chew toy designed for teething puppies. Always read the label to ensure it is safe for a puppy. Chewing will likely help the puppy relax (and very likely fall asleep after some time) while it helps loosen baby teeth, allowing them to fall out to give way to the eruption of adult teeth, according to Jeff Kahler, D.V.M.