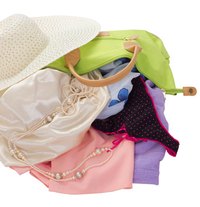 Packing for a quick getaway is a breeze, but if you're planning a 30-day vacation aboard a cruise ship, you might be feeling overwhelmed. Making a list of what to take is only one step to successful packing. Being prepared and researching your cruise ship will help you decide ahead of time on what is necessary to pack and what can stay behind. By following a few insider tips, packing for a 30-day cruise won't be a hassle.
Making a checklist of the items you'll need. Take into account how many outfits you should pack, but also try to mix and match clothes to save room in your luggage. Remember other items you may want during the cruise, including cameras, accessories, books and laptop computers. Create your packing list at least a month in advance so you're fully prepared.
Check for dress codes. Many cruise lines have dress requirements for restaurant and bar areas. Swim wear, tank tops and even shorts are not permitted in some areas of the ship. Look to see if you need to pack for formal events during your 30-day cruise. Some cruise lines give passengers the opportunity to rent tuxedos before boarding the ship, so plan ahead and book formal wear before you depart.
Inquire about laundry services. Since you'll be cruising for 30 days, you'll probably want to wear the same outfit more than once. Look into dry cleaning services aboard the cruise ship and check to see if your cruise ship has a self-service laundromat available.
Buy on-board to save space. Cruise ships have gift shops that sell everything from umbrellas and flip-flops to perfume and souvenir t-shirts. Adhere to luggage weight requirements, and buy odds and ends at cruise gift stores instead of packing them in your suitcase.
Take note of luggage restrictions. Some items not allowed in luggage can include incense, scissors, heating pads and alcohol. Avoid getting your belongings confiscated by checking the list of prohibited items in advance. Also take note of the cruise line's weight limit on bags before packing.
Check to see what complimentary toiletries are offered before packing. Cruise lines provide shampoos, conditioners and soaps to their guests. Some companies offer hair dryers, robes and slippers to passengers also.