Filling your propane tank can cost hundreds of dollars for just one fill. It is not uncommon for propane companies to require payment for the entire balance due at the time of delivery. If you are not prepared for this expense, paying up front can be a financial hardship. By using less propane, ordering less, paying less per gallon and avoiding cash on delivery, you can enjoy the benefits of using propane without the burden of a large bill.
Step 1
Fill your propane tank during the summer months. Higher propane demand during the winter season drives the price of propane up. When the weather warms, propane used only for cooking, propane dryers, and heating water consumes less than operating a propane furnace. Propane inventories increase and the price of propane drops, saving consumers as much as 50 cents per gallon or more.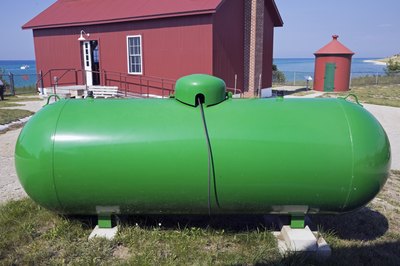 Step 2
Ask your propane provider if they offer a budget pay program. The amount of propane you used the previous year will be averaged over 12 months to obtain your monthly payment for the next 12 months. The lower monthly amount is easier to budget and plan for. The budget pay plan also includes an option to have your propane level checked every month and topped off without the having to make a phone call for a refill.
Step 3
Request the minimum amount to be delivered when your gauge reads 30 percent. Minimum amounts vary with propane providers and depends on the size of your tank. Calling for a fill at 25 percent or less is 10 percent or more that you will be paying by not calling for a fill at no less than 30 percent. An extra 10 percent is 10 percent of your tank's total capacity. In a 250 gallon propane tank, you will be spending money on 25 extra gallons of propane.
Step 4
Call around and compare current propane prices, if you already own a propane tank. Choose a propane company that offers the most competitive price. Prices and payment options will differ between competing propane providers in your local market. If you request a complete fill of your tank, some companies may provide a discount.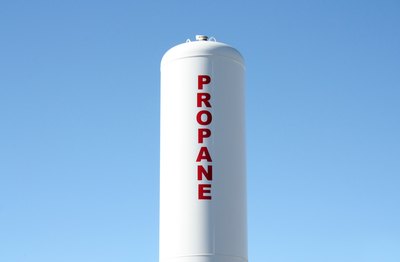 Step 5
Conserve your propane usage. Turn pilot lights off on appliances that you are not using. Locate and repair air leaks in your home. Limit the use of your propane dryer. Upgrade appliances that are ten years old or older to more energy efficient models, and schedule regular yearly maintenance on your propane furnace. Lower the temperature on your hot water heater to no hotter than 120 degrees. Install a digital furnace thermostat that you can program.
Step 6
Apply for propane assistance. Call your local economic security office for instructions on how to apply for energy assistance for low income individuals. If you meet the requirements, a portion of your heating bill will be paid to your propane company, reducing the amount that you will have to pay out of pocket when you have your propane tank filled.