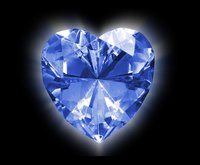 Diamonds are one of the most precious gemstones in the world. Diamonds are used in a variety of jewelry settings, but a diamond engagement ring is seen as a token of love and a sound investment. With diamond demand set to grow at up to 20 percent a year, according to analysts at Money Watch, now might be the time to consider investment in a diamond mine. De Beers is the largest diamond mining company in the world, and sells approximately 85 percent of the world's diamonds. It is no longer publicly traded, but there are about a dozen other diamond mining companies you can invest in.
Things You'll Need
Internet connection
List of companies that mine diamonds
List of the names of the stock exchanges the diamond mine shares are traded on, with their symbols
Research on the trading performance of each company on the stock market
Money to invest in a diamond mine
Stock broker connected with the stock exchange you want to purchase diamond mine stock
Log on to the Internet and research a list of the main diamond mining companies around the world.
Narrow down your list of possible companies to invest in by determining which are publicly traded and which are privately held, and therefore do not permit outside investment.
Look up the stock exchanges and symbols for each of the companies you are interested in. Exchanges can include the Australian Securities Exchange (ASX), Johannesburg Stock Exchange (JSX), London Stock Exchange (LSE), the New York Stock Exchange (NYSE) and the Toronto Stock Exchange (TSX).
Look up the share price performance for each of the companies you are interested in by visiting the website of the stock exchange the diamond mine shares are being publicly traded on.
Analyze the performance of each diamond mine company's share price by looking at the past year's trend. Narrow down your list of possible companies to invest in based on your analysis to a preliminary short ist.
Research each company on your short list and narrow your list further based on what you learn. Find out what countries they mine in and how much of a percentage of market share they hold.
Choose a company to invest in. Find a broker affiliated with the exchange you wish to trade on. Clarify fees and whether there is a minimum share purchase. Put in an order to buy shares. Save your confirmation in a safe place.