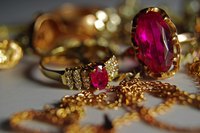 Home party sales represent some of the most popular home businesses around. A number of reasons exist as to why. They allow you to start a business without having to make a product, give you a tried and true business structure in which to work, and allow you to socialize. For those of you just starting a jewelry home party sales career or who are helping a friend build hers, the home party is the cornerstone of building a business. To host a successful jewelry home party, you need to do more than invite a few friends over, although that's the first step.
Things You'll Need
List of names
Email list
Invitations
Food and other refreshments
Jewelry kit
Catalogs
Business cards
Raffle gifts
Order forms
Collect the names of people you want to invite; they can be friends, relatives, neighbors and acquaintances or people who have been referred to you as possibly being interested in jewelry.
Send out invitations to the potential guests on your jewelry home party list. Let people know the date, time and place. Include a map if you think people will have trouble finding the location. Be sure to add an RSVP so you know how much food and drink to order. Send out the invitations at least two weeks before the event but three weeks is better. Send a reminder note or email or call about a week before the event.
Order any supplies you need for the party: your jewelry kit, catalogs, business cards and order forms. If your company provides a hostess gift and you are holding the party at someone else's house, order the gift at this time, too.
Buy food and drink a day or so before the event.
On the day of the party, set out the food and refreshments. Arrange the jewelry display and catalogs on tables in the room so people can see them as they mingle.
Encourage guests to eat some food and relax as they arrive. Give them a little time to get acclimated before you start the party.
Start the party with a game—a raffle, for example. This breaks the ice and offers people the chance to win something right away.
Present the hostess with her gift and encourage others to act as hostesses for your next party.
Go over the details of the jewelry display and pass the items around. Answer any questions. Pass out catalogs and order forms.
Collect people's money for their orders.
Follow up the party with a thank-you card to the hostess and the people who attended.
Notify people when their gifts come in, if the company ships all orders to you. Deliver them, if that's part of your business setup. Encourage people again to host a party when you deliver their merchandise.