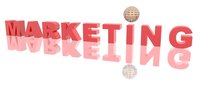 Your work as a marketing consultant can involve small businesses (distributors, manufacturers, retailers), individuals (celebrities, executives), or international companies. Marketing consultants often juggle many roles, such as improving website designs, developing brand images, and blogging. If you prefer to specialize in one or two ways, you could concentrate on helping companies consolidate brands or expand their business (domestically or internationally).
Determine your company's name, location and goals. You might start as a one-person marketing company and work part-time from home until your business expands. Decide your focus, such as whether you will work on new product development or product expansion into emerging markets.
Purchase supplies and equipment. For example, if you develop a real estate marketing company, you might need lockboxes, signs and signposts. In contrast, as a consultant for IT startups, you should be able to develop business plans and prepare investor presentations.
Advertise (business cards, brochures, website) and network continuously. Polish sample work like past marketing campaigns that you can display readily to potential clients. Initially, you might approach small businesses, unless you have significant professional connections or experience working with international firms.
Understand each client's marketing demands, which usually vary. For example, when expanding into a new country, determine if the client needs updated market research about tariffs, product quality requirements or distribution systems. Another client might need help translating its campaign into a foreign language.
Evaluate your results and make adjustments as needed. You might assess product, pricing, promotion and place (distribution) strategies for each client both midway through a project and after a project ends.