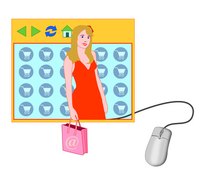 The Internet offers an infinite amount of business opportunities. Founders of companies like Google, Yahoo, Amazon, eBay, Facebook and many others have become billionaires simply by creating online corporations. If you are creative and intelligent enough, you can use the internet to become a self-made billionaire as well. You need to register you business first and get an employment identification number from the Internal Revenue Service (IRS). You will need that to pay taxes.
Things You'll Need
Company registration
Employee Identification Number
Computer
Bank account
Web designer
Starting an Online Corporation
Find a web host that can offer you an unlimited amount of space for a modest fee per month. There are many companies that can host your website for a fee as small as $5 per month as of 2010. You need to host with a reliable and reputable company capable of handling high influx to your website. That is important because you company is online based. In online business, the number of visitors to your site translates into money.
Give your company an identity by creating a logo. You can get logos for free on the internet if you want to save money. But a customized logo designed to your specification is more preferable. Customers can identify with logos if your business gains reputation. If people like your product, you logo will grab their attention. So, it is important that you pick a logo that is uniquely identifies your firm. You should also choose an URL that is easy to remember.
Design a website that is original. If you cannot design your own site, there are various web designing companies that can do it for you. Since this is a start-up business, you might have a limited budget. In that case, it is better to hire an individual web designer rather than a company. With an individual you can negotiate the price. But you need someone good enough to install security features if customers will have to purchase merchandise through your website using credit cards. Your website should be connected to your business account in that case.
Optimize your website for search engines such as Google. By so doing, you traffic is likely to increase to your site. When people search for certain information related to your business, search engine will direct them to your website. You can also make extra money by allowing Google AdSense on your website. These are small Google advertisements that appear on websites. When visitors to your website click on these advertisements, Google will send you a check.
Depending your budget you can advertise your business in a relevant media such as television or newspaper. Social media has also become a good platform for free advertising. You could open a Facebook account, for instance, in order to connect with your clients. This helps to bring many of your clients to one platform where they can make comments about your business. Good comments will encourage others to purchase merchandise from you. You could also blog about your merchandise.